Adapt LBS model - Improve Consumer & Service provider Connection
The growth of the mobile market has created new opportunities for businesses and organizations of all sizes.
In 2014, the number of mobile device users worldwide overtook users of traditional computing devices for the first time in history. This marked a pivotal turning point for the global consumer technology ecosystem. Users of mobile devices typically spend three to four hours every day on their devices. A staggering eighty-nine percent of this time is spent using mobile apps, as opposed to just eleven percent spent on mobile web pages. What's more, the abundance of mobile devices becomes more prevalent every day and is expected to have exponential growth as Mobile technology improves.
Location Based Services (LBS)
LBS solutions enables GEO code integration to provide a service based on the location. As Ride share companies revolutionized the services model with On Demand availability leveraging LBS technologies, other industries including Home Healthcare, Real Estate, Home Services, Handy Man services and others can enhance their service model to be more available to customer on their time.
As the consumer demand and competition increase, need of the hour is to be available for customer's services on their time and Mobile technology in integration with GPS provides service providers exact opportunity to achieve service excellence by On Demand servicing.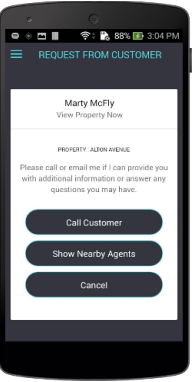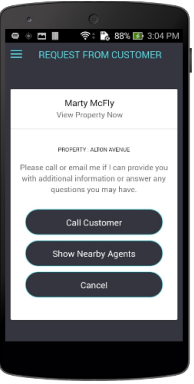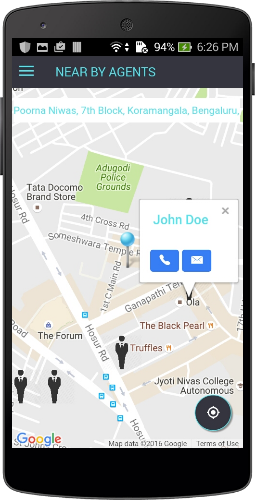 Advantages of Adapting a LBS model
The LBS enabled On Demand solution provides a tremendous advantages and convenience. Consumers can get predictable services within short notice especially in cases of unscheduled and unavoidable situations. It removes the waiting game for customers -connecting with services providers-getting multiple schedules - moving away from phone tags & email back and forths to get a service. Consumer has the option to connect with the right service provider who is available and at a particular location.
This model is equally advantageous to Service providers as well. In the present world of Geek economy to provides flexibility to service provider. It provides service providers the flexibility of being available or unavailable based on day & time, reducing unwanted lag in service opportunities make their time to the fullest usage.
Realtors to improve Buyer connectivity through LBS Implementation
By using LBS services Realtors can showcase the property in a much easier way. Typically when a customer searches for a property he/she has to contact a local Realtor agent through phone or take an appointment to visit the property. By using LBS systems customer will be able to locate available agents through application. The application will show the nearest agents and customer can directly connect with the Agent. This way the amount of time spent on searching, scheduling and visiting property can be substantially reduced. For more information click here
Home Service provider Implements LBS solution for faster response.
Home service including Handy Man, Cleaning Service etc. is an industry where Location Based Services (LBS) plays an important role. Service provider companies will have all service providers registered with the company and the Customer App shows available service providers using their location and lists them based on customer's requirement. Once customer sees a matching provider on the map, customer can connect with available service provider and service provider accepts the request. Once the task/job is completed Service Provider company also gets notified about the status.
For more information click here
For more information, reach out to us at : apps@tratumtech.com
---
What We Do
Tratum Technologies has a practice-based focus on mobile technologies and application development. Collectively, our team has an array of skill sets to help our customers and partners with innovative solution offerings across multiple platforms. With expertise in both mobile apps development and device-enabling for mobile technologies, Tratum provides a one stop shop to customize an application tailored to your business.
We are prepared to implement and scale the following application features for both iOS and Android:
GPS integration to enable consumer networking
AIccelerometer and gyroscope integration
Modern, user friendly UI and UX
Mobile-enabled field service
Mobile-enabled supply chain solutions
In addition to the features above, we are committed to developing other new and creative solutions tailored to meet your business challenges.
Why Work with Us?
End-to-end application development coverage
Maintenance and testing services designed to support growth
Retrofitting application integration to complement existing systems
technical expertise and around the clock support
Here are some of the fields we are equipped to create mobile solutions for:
Check out our case study on one of our newest and most exciting projects, XEN Cabs
Bring your concept to the mobile world and reap the benefits of connecting with the fastest growing consumer base in the world!
For more information, reach out to us at : apps@tratumtech.com