Our objective is continuous improvement in what we deliver
At Tratum Technologies, we believe that outsourced application management should establish a framework aimed at creating continuous improvements. By outsourcing your application management with us, your organization will receive a unique blend of functional knowledge, technical expertise, and experience ranging from database management to developing full scale e-business software development solutions.
Our services cater to the best of breed processes which helps in a creating successful, on-time results. The solutions provided by application outsourcing need to be effective and user-friendly. We follow stringent quality procedures along with benchmarked practices and experienced delivery skills to help our clients.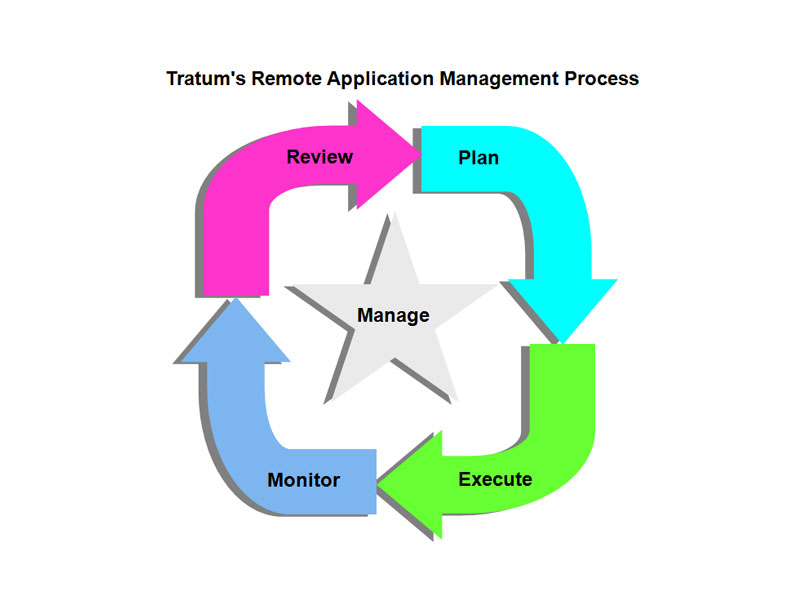 Why are companies outsourcing application management?
To manage growing complexity.
To keep up with the impact of the changing technical nature of business.
To get the capabilities to deliver a range of IT services worldwide.
To manage risk.
We can provide a secure, efficient, and cost effective way to manage your application on a 24/7 basis. Whether you are seeking support for your COTS application, or homegrown application, you have a trusted partner in Tratum.
Our RAM Services
Our support team brings decades of excellence to the table. Leveraging our experience in a number of business verticals, we provide our customers with all-encompassing remote application management and best in class service.
Portfolio of services
Remote Application Management
Proactive Monitoring of Managed System
MIS Support
Manage Configurations
Application Customization – support
As a global IT services provider with customers around the world, we have the ability to provide secure, services. Whether the application resides at your facility or at any third party data center, our experts will be able to manage it remotely to provide you with the solutions and support that you are looking for.
Tratum RAM lifecycle
Our support process has been developed with two goals in mind: to exceed customer satisfaction and to improve process maturity continuously. The concept revolves on a continuous cycle beginning with initial engagement followed by a consultation to acquire customer feedback, which helps us to attain effective execution and service maturity.
Tratum's offering is based on the following steps:
Plan: A continuous cycle of planning and re-planning for process maturity to attain our corporate goal of providing software solutions and services of outstanding quality that meets customer expectations.
Execute: Our experienced professionals execute the plan and collect the parameters. The execution also involves utilization of resources to meet the objectives mentioned in the project plan. Execution also involves strict adherence to industry best practices so that your most valuable resource time is not lost.
Monitor: Monitoring is a vital component of our process. Its objective is to provide constructive feedback on the entire delivery lifecycle. This helps us identify issues beforehand and take action to minimize the impact. Monitoring provides additional opportunities for improvement as well.
Review: The entire process is reviewed periodically based on the monitored values to improve the RAM delivery process. The review is multi-phased; within the team and Tratum management, and between internal project management group and the customer. This helps us to provide more value to the customer.
Manage: Our management activities include frequent interaction with our customers, review of various monitoring parameters bringing technical and non-technical issues to closure, risk mitigation, and more.
Tratum RAM Specific Service Offerings
Remote Application Management

Manage and Track incidences
Deploy customizations based on customer needs
Real-time system reports to evaluate the performance of the System
Streamlines escalation mechanism for easy issue resolution
Work with customer & their vendor/partners for speedy issue resolution
Tratum as part of is Remote Application Management Offering undertakes:

Release Management
Change Management
Proactive Risk Assessment and work with customer to mitigate the risks.

Proactive Monitoring Of Managed System

Comprehensive monitoring of all application including multi layer monitoring.
Provide 24x7 Monitoring for the Managed System of Customers
24x7 supports for all issues related to Managed Systems (including Level 1, Level 2 & Level 3).
Undertake proactive and preventive maintenance on the Management System

MIS Support

with business contact points to identify customized report from Managed System to aid decision making process
Develop Customized Reports

Manage Configurations

Manage Managed System configurations proactively by undertaking

Periodical Updates
Patch Installation
Defect resolution

Maintain software & hardware configurations
Provide Application and database backups based on prevalent policy at the Managed environment.

Application Customization

Customers can rely on Tratum's turnkey project delivery expertise to provide minor customizations on the existing systems under the preview of Managed Systems
For more information, reach out to us at : sales@tratumtech.com