Now that you have made a decision to move to a new platform, preserving the investment made in creating the content in the current platform is a key step in process of moving content to new environment. Rather than time consuming task of rebuilding the courses in the new platform Tratum's solution enables institutions to take an approach of moving contents automatically without loosing data integrity of the content. Tratum's solution process is one step above the standard export & import process. It involves a transformation model, which enables transformation of source content to native format of the target platform which enables further editing and enhancement of the migrated content. In addition solution also provides opportunities for appending, editing and other style changes during the process.
About the Transformation tool - Visual Course Transformer
Visual Course Transformer enables structured migration/transformation of course extracts that adhere to standard content format (SCORM, IMS, et al) between industry leading CMS systems including proprietary platforms and open source solutions. It provides an easy to use interface and is designed for intuitive use by Instructional designers and teaching faculty. Solution addresses the need of content migration between platforms, few courses or bulk migration, adding new content form outside sources to existing course structures, all done efficiently.
Why Visual Course Transformer ?
Most of the modern LMS servers allow direct upload of course extracts in standard formats, however restoring the course extracts without first migrating them to the exact target-specific format is not preferable.
All modern LMS packages provide a host of features including,
Administrative controls

WYSIWYG Content Editors

Rich set of content type definitions
Industry standard student evaluation, assessment and collaboration tools (like Assignment tool, Discussion Boards, Blogs, Grading Systems, Student Groups, etc.)
The target LMS do not provide any of these features for the courses that are directly restored from packages that are not in their native formats at micro level. It treats the entire restored course as a single unit and supports just a few of the above-mentioned features for this "single unit."
Visual Course transformer is the solution you need
Visual Course Transformer supports migration of course packages between eLearning course-packaging formats, thereby supporting and addressing migration challenges, even at a micro level. In addition to migrating course packages between formats and supporting these features, it also provides many other options either directly or indirectly (by retaining), such as,
Content modification based on the requirement on a course-to-course basis

Custom branding (styles, themes, banners)
Reusability of course content transformation rules
Visual Course Transformer provides these features, and more, through an easy to use interface and a robust migration system.
In the first level of mapping called "Simple Mapping", the user can define a structured mapping design that migrates the content as-is from the source package to the destination package and also provides access to other mapping attributes.
In the second level, it provides an interface for a detailed modification of specific contents with a rich set of pre-defined controls.
With controls like the "Container Tag", "Content Append", "Content Stripper" and "Content Replace", a user can implement any modification design imaginable.
Also, with an option to write custom control logic, one can never fall short of controls, even for complex transformation designs. Designers can choose between adding custom logic through "Custom Script" control that provides an option for writing the logic in either C# or JavaScript or create a new reusable control that can be exported and imported in any remote system.
The tool also provides a "Save Mapping" feature that allows a mapping design to be saved at any point of time and continued later (when used in "Partial Mapping" mode, the migrated courses can be redesigned/modified more efficiently). The saved mappings are also useful in reusing a transformation design where a particular design can be reapplied to any number of similar or mostly similar courses, saving a great deal of time and work.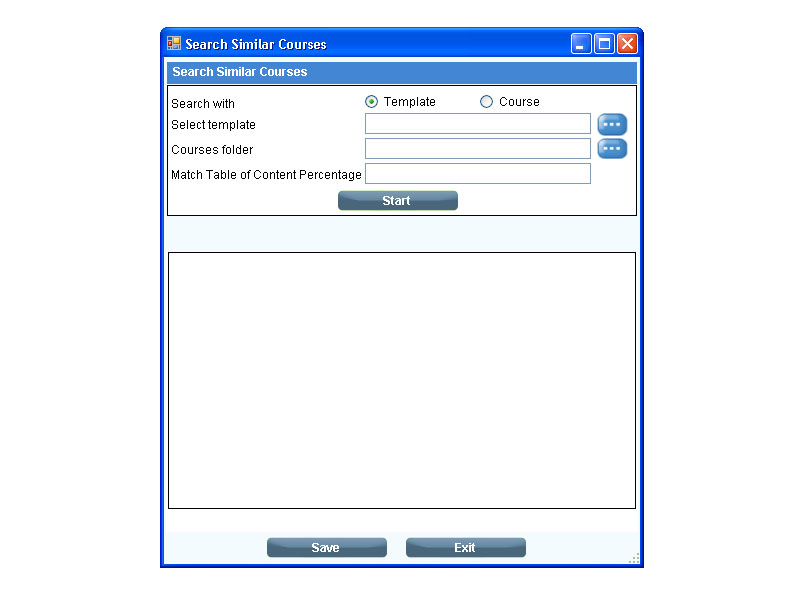 With "Search Similar Courses" feature, searching for courses where same designs can be applied, is a breeze. It provides an option of setting the match percentage between courses that comes in handy while selecting the best transformation design to be applied.
For more information, reach out to us at : apps@tratumtech.com